home
about FI
resources
<!A HREF="../debris.html">random debris
send fiction
contact
max
The Blog of Eternal Damnation

An Epic Tale of Fear, Courage, and the Fine Art of Making Shit Up

Part Two, the Eventide of Our Dislocution
Our story so far....
As you may recall from last issue, we had been asked to do an interview of one of our all-time favorite speculative fiction personalities, the inestimable Ellen Datlow.
You may also recall that this little project was causing us to grow boils the size of robins' eggs on the undersides of our cerebellums. Well, guess what? It ain't done yet. But still, as promised:
The Whole Sordid Tale
First thing you ought to know: I've never done anything like this before. I did have an interview assignment once waaaaaay back in college, but I thought Why spend an afternoon embarrassing myself in front of a stranger, when I could just make some shit up? So I did that. And it went over really, really well. (I mean, how am I supposed to learn to do things right, when I keep getting these Crime Does Pay messages?)
Anyway, so imagine my trepidation when this guy named Bob asked me (in a polite enough way, for sure) to do an email interview with the maven of speculative fiction herself, the one-time dark queen of OMNI, the current Fell Editor of SciFi.com.
"Dude," says Bob, "interview Ellen Datlow for me."
"Uh, okay." Now this is where the story gets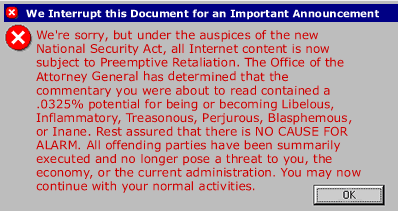 So finally, after all that, I shipped the little bastard off to Bob, and never heard from either of them again.
Moral? I'm not entirely sure there is one. Well, okay, if I had to choose one, it would probably be: "Never say anything disrespectful about the Government, especially not when there's a war on, or a crisis, or an election pending, or a downturn in the stock market. They have all of our best interests at heart. No, really."
~The Staff at Fiction Inferno
Previous Debris
Concerning the events of September 11, 2001
The Fine Art of Making Shit Up
<!A HREF="debris-5.html">The Fine Art of Making Shit Up, Part Two
<!A HREF="debris-6.html">The Fine Art of Making Shit Up, Part Three
Circulation
Previous Issue
5,319 unique visits
Since Launch
19,254 unique visits


NOTE: Circulation numbers for this issue are extrapolated again, again due to log file issues with my host. Sigh.
Books Received
The Distance Travelled
by Brett Savory
Primebooks
Spirit of Independence
Keith Rommel
Barclay Books
The Way of the Wolf
E. E. Knight
Time-Warner
For the Sake of Peace:
The Seven Paths to Global Harmony
Daisaku Ikeda
Middleway Press
Satan Burger
Carlton Melnick III
The Kafka Effekt
d. harlan wilson
Skimming the Gumbo Nuclear
M. F. Korn
Eraserhead Press